The Traxxas QR-1 Quad-Rotor is a great micro quadcopter for beginners.  Why?  You don't have to worry about this mini quadcopter getting damaged from your first accidental crashes – a huge plus for beginners.  It may be small, but the Traxxas QR-1 Quad-Rotor Micro Quadcopter is capable of withstanding crash after crash from beginner experiences.

>> Amazon has great pricing on the Traxxas QR-1 Quad-Rotor <<
Traxxas QR-1
The Traxxas is a fun little QR-1 quadcopter. However the poor control outdoors and bad battery life doesn't justify the price for this little guy.
Key Specs
Weight: 1.4 lbs
Dimensions (L x W x H):  4.7in x 4.7in x 2in
Flight Speed: –
Flight Time: 5 minutes
Experience Level: Beginner
Flight Controller: Transmitter
When you open the box upon first receiving this quadcopter, you'll notice that everything you need to fly the Traxxas QR-1 is right there. Unlike many toys and gadgets sold nowadays, you don't need to buy any batteries, chargers, or any other separate parts. The batteries for the transmitter are already provided as well as is a special charger for the batteries.  Although only one battery is needed for the transmitter, the charger can charge both of these batteries at the same time.
Battery Operated
The transmitter of this mini quadcopter comes equipped with two Li-Po batteries that can be charged in 30-40 minutes. It's surprising to find that you can charge your batteries using the special charger and your laptop as a power source.  You should also get an adapter that will allow you to plug-in the charger to an outlet,  just in case you don't have a laptop available for use.   Don't forget to also buy two extra batteries if you want to keep the fun consistent. It's definitely fun to fly this quadcopter for 10 minutes, so why stop the fun?
Ready to Fly (RTF), Transmitter Included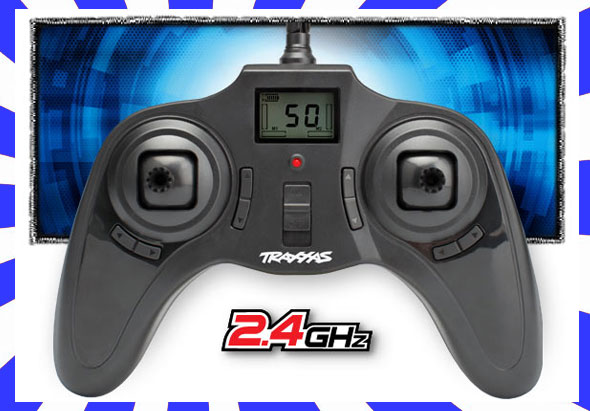 The transmitter can also provide you with a great range because of its 2.4 GHz radio control. You will rarely have troubles with frequency between your transmitter and your quadcopter. Your transmitter also allows you to switch between a normal and an expert mode. This, along with many other adjustments you can make on your transmitter, is visually and conveniently available on the LCD screen of your transmitter.
Indoor Flight Recommended
Fly this quadcopter indoors.  Sure the quadcopter can technically be flown outdoors, but unfortunately due to its tiny nature this quadcopter can be easily overwhelmed by the slightest breeze. If you do ever want to fly it outside, though, then you'll have to do it on a day where there isn't even a hint of a breeze. However, if you live in a place where that may actually seem impossible, then you should stick to flying it indoors.
Flight Control
In expert mode, the Traxxas QR-1 can perform flips and rolls.  For beginners, it's a little difficult to master these stunts than the basic controls, but it's definitely worth the effort. Once you have mastered these stunts, you can take it to the next level with a bigger quadcopter.  The small size of this quadcopter allows you to fly it through small spaces and perform stunts that can be difficult for bigger models. You can also create your own fun little obstacle courses to try to hone your skills or amplify the fun and challenge.
Great Manufacturer Support
The best "feature" of the Traxxas QR-1 is the great manufacturer support.  It comes with a special warranty that allows you to replace certain parts when needed. Tired of this model?  You can even trade in your current model for another different model for just half the price. You may not receive this new model with batteries for the transmitter, but that wouldn't be such a problem if you have already bought a second pair for your previous model.
Wrap Up
All in all, the Traxxas QR-1 provides you with endless amounts of fun. It takes a lot of practice to master all of the basic controls and stunts, but this adds to the fun for beginners.  The possibilities of how you can play with your new mini quadcopter are endless, ranging from creating your own obstacle courses to performing special tricks. Finally you can also receive a warranty that covers replacements that can help keep your fun with the mini quadcopter continuous. With all of these great features, the Traxxas QR-1 would definitely be considered the best micro quadcopter for anyone to enjoy.
>> Checkout the latest price for the Traxxas QR-1 Quad-Rotor on Amazon <<