Syma X1 4 Channel 2.4G RC UFO Quadcopter Review
Even though remote controlled quadcopters have significantly improved in quality over the last several years, the prices have kept dropping, letting you get great quadcopters at affordable prices.  One such option is the Syma X1 4 Channel 2.4G RC Quadcopter – UFO. With the Syma X1 UFO, it's possible to enjoy some of the very best features of a quad copter drone, without actually having to break the bank attempting to purchase it. The Syma X1 UFO is the least expensive quadcopter you're going to find on the market today.  This is just one of the many reasons why you need to check out this quadcopter and see exactly what it's all about.
>> Check out Amazon's low prices for the Syma X1 <<
Syma X1 UFO
The Syma X1 UFO is an very affordable, fun indoor and outdoor micro quadcopter for all levels. The only thing it lacks is manufacturer support.
Key Specs
Weight: –
Dimensions (L x W x H): – 14in x 14in x 2.3in
Flight Speed: –
Flight Time: 5 minutes
Experience Level: All Levels
Flight Controller: Transmitter
Flight Control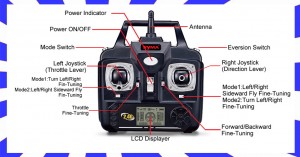 The Syma X1 UFO is an extremely stable device outdoors with light winds.  We believe it's because of the gyro initialization process that happens when you start up the quad, so make sure to do it on a flat, balanced surface.  Once the quad is in the air, the fun really begins.  Not only is it easy to maintain a level flying pattern, but you can easily perform different moves, such as flips, rolls and other twists and turns that simply is not possible with other drones at the price level.   The Syma X1 comes with a 3-axis controller, allowing you to go up/down feature with one controller, the left/right with another and the forward/back with the final controller.   The results is that it's possible to perform every 3D movement with this quadcopter.  Many of the other quadcopters out there only come with 2-axis flight control, reducing the level of control and maneuverability you have with the quadcopters. Another great feature of the Syma X1 UFO is the indoor/outdoor flying mode. It gives finer control of the quadcopter, allowing you to stay at a desirable levels inside a building or a home. It also allows you to reduce the speed that the quadcopter flies at, so you don't crash into a wall by accident or knock over that family heirloom that your wife told you not to move.  By reducing the speed of the equipment, you have an easier time controlling the quadcopter, allowing you to move the drone in and around tight places.  When you move to flying outside, you can switch it to the outdoor mode, which allows you to travel higher and fly at faster speeds.
Flight Distance
The Syma X1 UFO provides you with up to 40 meters of control. You'll be able to fly about 100 feet away before it no longer can connect to the controller at that frequency.  All of this is important to keep in mind when flying the quadcopter because if you fly too far away, you'll most likely lose sight of the quadcopter because of its size and you'll probably lose it.
Durability
While flying around indoors, I crashed this thing about 20 times trying to mimic a Redbull airplane race :).  I'm not sure what type of plastic it is, but it's extremely durable and I didn't break one propeller or the shell.  For a quadcopter at this price level, I was convinced that it would break and I'd be searching for new parts online.  To my surprise, this quadcopter withstood all the crashes.
Battery Life
What might be best about the Syma X1 UFO, outside of the easy to use features and the price tag, is the fact that the batteries on the hardware are all rechargeable, making it easy to hook up, charge the battery and be ready for another round of flight quickly.  Make sure to purchase extra batteries as the charge time does take around 40 minutes, which gives you only about 5 minutes of flight time.
Support
The only downside of owning this quadcopter is the lack of support.  Outside of a couple of pdf downloads that you can get off of their website, their really isn't much available in regards to support.   But at this price point, do you really need that much support?  If you buy it from Amazon, you can return it if anything is broken on arrival and get a full refund.
Wrap Up
All-in-all I had a great time flying the Syma X1.  I'd definitely recommend this quadcopter for all level of flyers.  For beginners, the stability and durability allows it to endure the crashes you'll have when learning to fly.  For enthusiasts, you have a great degree of control allowing you to do great aerial tricks both indoor and outdoor!  And of course, the greatest feature is the price!  The last time I checked, Amazon had this quadcopter for only $32, which is such a great deal for this fun quadcopter.
>> Check out other reviews for the Syma X1 UFO on Amazon <<