If you're looking for a beginner's helicopter, then the Heli Max 1SQ RTF  may be the quadcopter for you. This four bladed quadcopter is fun, fast, and durable – a combination perfect for novices.
Heli-Max 1SQ
The Heli-Max 1SQ is a great, fun, and durable quadcopter for a beginner. The battery life is the only downside to this great quadcopter.
Key Specs
Weight: 1.8 lbs
Dimensions (L x W x H):  10in x 9.1in x 4.2 in
Flight Speed: –
Flight Time: 3 minutes
Experience Level: All Levels
Flight Controller: Transmitter
Beginners
When saying that the Heli Max 1SQ RTF Quadcopter is good for beginners, there are a few key components of the quadcopter that are useful for training purposes. When starting out, crashes are inevitable and are going to happen no matter how much starting talent a person has. The Heli Max 1SQ RTF is one of the most durable micro helicopters on the market right now, making it able to take a beating from hard crashes and still operate effectively with minimal damage. It also has a sensitivity control setting, allowing beginners to start out on lowered sensitivity to prevent overshooting turns and correcting issues.  I found that when a crash was inevitable, pulling back on the throttle and slowing it down reduced damage from the impact, as it lowered the momentum of the quadcopter.
Advanced
Just because the Heli Max 1SQ RTF is good for beginners doesn't mean that more advanced users can't have fun with it as well. The sensitivity controls work both ways in that they will allow you to turn it up, increasing the sensitivity for tighter turns and more advanced copter flying. It's also a very responsive quadcopter allowing for tricks to be performed with ease.
Outdoor Flight?  No problem
The Heli Max 1SQ RTF Quadcopter is a very small quadcopter. It's length is just under six inches and it weighs just over 1.1 ounces. Don't let the size fool you though, as it's quite capable of flying in windy weather and is a very powerful quadcopter.  The TAGS ("Triple Axis Gyro Stabilization") is pretty effective and allows for the quadcopter to fly and stabilize in light winds, something many of the quadcopter the same size can't do.  It effectively neutralizes the impact of wind and other outside forces on handling, so you can enjoy smoother maneuvering and easier hovering indoors, or out.
Camera
No camera's installed, and the quadcopter really isn't designed to carry one.  While you may not have the ability to attach a camera on this version of the Heli Max 1SQ RTF, the upgraded version the Heli Max 1SQ V-CAM RTF Quadcopter comes equipped with one which can take pictures and record videos.   So if you're looking for a camera, that version is the one you want to get.   The video takes 1280×720 resolution videos at 30 fps. The Heli Max 1SQ V-CAM RTF comes with a 2 gb memory card, but you can choose to use your own larger card to replace it if you need more space. As long as you keep things uploaded to your computer and can keep the card memory erased before each flight, you should never need a larger memory card.
Extra Parts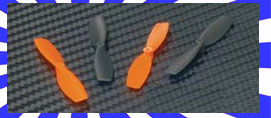 Back to this version, the Heli Max 1SQ RTF Quadcopter comes with a set of four extra blades in case a fatal crash causes some of your current blades to break off. It also comes with four "AA" batteries for the controller so that all you need to do is charge up the quadcopter battery and you're ready to fly. It doesn't come with a spare battery, which may be something you consider buying. On a full charge, the Heli Max 1SQ RTF Quadcopter is able to fly for about 10 minutes before running the battery low and needing to land.
Pricing
This is a relatively more expensive micro quadcopter compared to others on the market. You can pick up the Heli Max 1SQ RTF Quadcopter for around $100 on Amazon. Most quadcopters of this quality run for a little less that that price.   The price difference is really for the control that the quadcopter gives you compared to the control that the other one's don't offer.
Wrap Up
The Heli Max 1SQ RTF Quadcopter is designed to train beginners while having advanced capabilities for veterans. It's not recommended for any experts, but can be an option for those looking to practice their skills before buying a bigger quadcopter. If you're new to flying, consider buying replacement parts for your quadcopter, even though it comes with four blades already. Also, if you plan on flying for more than 10 minutes at a time, pick up an extra battery as well.
>> See Amazon's low pricing for the Heli-Max 1SQ RTF <<